4. Internals of the camera
Here you can see what's inside of the camera (model 1 shown). It consists of two PCBs - sensor board and the processor board. Lens is mounted in a plastic housing secured to the sensor board with two screws.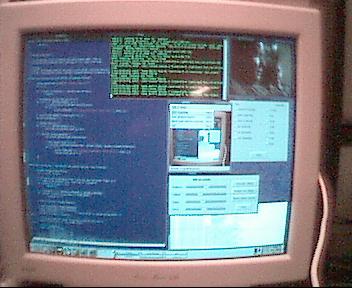 5. Theory of operation
5.1. Command set specifications
Some people asked for specs but manufacturer failed to respond. The Linux driver, therefore, has to rely on observations of USB traffic generated by Windows driver. The camera uses many vendor-defined control commands, this makes it hard to understand how to control the device. However the most popular modes seem to work; this makes the camera fully usable on Linux boxen.
5.2. ViCETM compression
This is some kind of video compression that allows to improve frame rate or image size. USB bandwidth is limited to 12 Mbps; however cameras generate huge amounts of data. As far as I know, there is no published specs on ViCE
TM
. I do not work at this time on reverse-engineering of that compression, and most likely I will not have time to do that in nearest future. The camera works "good enough" already, so ViCE
TM
is not absolutely required, though it would be nice to have.
Note: Apparently ViCETM is supported only on some image sizes, usually only 176x144 - probably because of insufficient performance of internal DSP to work on larger images. However at such small image sizes the compression is not that necessary. So there is little advantage of having ViCETM.
5.3. Device descriptors and interfaces
5.4. Initialization sequence
5.4.1. Overview
Complicated and undocumented. Consult the driver source for details. All initialization and camera control is done via control transfers over the default (control) pipe. Most
OUT
commands do not use the data stage, but
IN
commands usually return some data. Nature of returned data is not known for sure, however observations hint that some returned fields carry white balance information in Model 4 cameras.
The bulk of initialization and control is done with OUT transfers. Three fields are defined in those control requests, besides the data buffer (which is not used):
Request (one byte). Usually 0 or 1, used to determine the direction of the transfer.
Value (2 bytes). Carries either a fixed or a programmable data.
Index (2 bytes). Classifies the transfer. Generally, USB device can use any field for any purpose, but these cameras appear to follow the general idea of using index field for directing the value to appropriate receiver.
Those are fairly low-level transfers. Camera uses several of such transfers grouped together in packets. Some transfers make up a framing of the packet, other (inner) transfers carry data. One packet usually carries out one high-level adjustment.
The structure of packets is only my best guess, but it seems reasonably correct for models 1, 2 and 3. Model 4 has some packet structure too, but I can't figure it out. Looks like each packet has variable format and variable length, and the framing of packets in this camera is very fluid, defying analysis. Therefore I only separated one packet that is known to adjust gain in color channels and affect hue, in some way.
5.4.2. RCA Connector on some Model 3 cameras (apparently IBM PC Camera ProTM)
Some Model 3 cameras are equipped with an RCA connector which can be used to feed a standard video NTSC signal into the camera. Therefore, such camera can digitize either image produced by internal sensor or an image from an external source, such as remote CCTV camera, VCR or TV set.
I didn't have such camera. However at least one person has it, so he captured some debugging data that was enough to activate this connector and see the externally provided image. This mode may be enabled with an option init_model3_input. However this is still very experimental code. It supports only one image size, and the image is inverted (bottom up) because the standard Model 3 data format produces scan lines in reverse order, so some fix is required for that. I do not actively work on this issue at this time because it's tough to play with datastream decoders without having the camera.
22.10.2001: I have the camera now - but not the time to work on it :-(
5.5. Uncompressed datastreams
The camera supports many standards, including CIF, SIF and QCIF video formats, not exceeding 640x480 natively. Larger image formats (like 704 x 576) that may be advertised on the box are just smaller images blown up for marketing purposes. Linux driver does not scale the image up - this, if needed, can always be done in userspace.
5.5.1. Frame markers
Camera sends continuous stream of frames. Each frame is prefixed with several bytes of frame marker (which is not part of frame data). The exact marker value varies between different frame sizes and can be used to correctly parse the frame.
Table 2. Frame markers for different video sizes.
Video size
Model 1
Model 2
Model 3
Model 4
Uncompressed
Best quality
Best frame rate
128x96
00 FF 00 06
-
-
-
-
00 FF
160x120
-
-
-
-
-
00 FF
176x144
00 FF 00 0E
00 FF ...
00 FF 02 0A
00 FF 02 CA
00 FF 02 EA
00 FF
320x240
-
00 FF
00 FF 02 08
00 FF 02 28
00 FF 02 68
00 FF
352x240
-
00 FF
-
-
-
-
352x288
00 FF 00 00
00 FF
-
-
-
00 FF
640x480
-
-
00 FF 03 08
00 FF 03 28
00 FF 03 68
-
5.5.2. Encoding methods
IBM/Xirlink cameras use several wildly different encoding methods. Some cameras (like model 2) use YUV encoding on one set of image sizes and RGB on other set. The driver contains appropriate decoders for known encodings. The output of the driver is currently only RGB24. The usbvideo project allows drivers to offer output in any subset of known video formats; however the Linux driver supports only RGB24 at this time due to large amount of work needed to write and test decoder routines. I don't even have all models of cameras!
Some applications may require one or another video format that may be unsupported by the driver. Voxilla is one such application, it wanted YUV-packed data format and absolutely positively refused to accept RGB24. A small patch to Voxilla fixed that. Generally, a V4L driver can provide output in any number of formats. But it is very difficult to write video conversion code in kernel space, and kernel is not the place for that generic code anyway. So this driver just converts camera-specific format into one of standard formats, RGB24 in this case, and that's it. A V4L client is free to convert it (in userspace) to whatever else it wants.
5.5.3. YUV encoding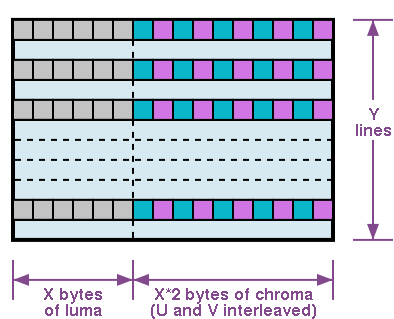 Figure 4. Model 1 (YUV) data format.
There are no separators or markers of lines; the only marker is the frame marker (see above).
5.5.4. RGB encodings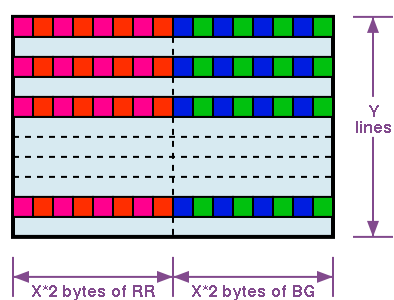 Figure 5. 320x240 and above data formats of Models 2 and 4.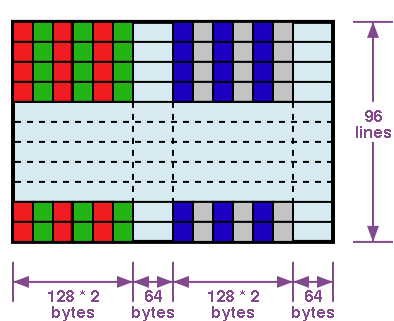 Figure 6. 128x96 data format of Model 4 camera.
5.5.5. More on Model 2 encoding
Craig Hadady comments:
I've been playing around with a model 2 camera and have discovered that the data format for resolutions at and above 320x240 may be different than what you have documented. I believe that the pixel array in the CCD is a 'Bayer' array, arranged like this:

GRGRGRGRGR....
BGBGBGBGBGBG....
GRGRGRGRGR....
BGBGBGBGBGBG....

and that the camera sends the data as a line of 'GRGR...' followed by aline of 'BGBG...'. To calculate the RGB value for any given pel, you only 'know' the color at that pel, and must interpolate the other two colors. I hacked 'ibmcam.c', renaming the driver and file as 'ibmcamb.c' to compare the changes. This hack averages neighboring pels on the current and previous lines to linearly interpolate the unknown colors. The results are much improved, even with a simple interpolation. The vertical lines are pretty much gone! The resolution is improved too, because the data is no longer interleaved. Anyway, I hope this helps. It makes my model 2 run better. I think improvements are still possible, but I wanted to let you know what I found ASAP.
5.6. Snapshot button
Cameras have a button that can be polled by software. The driver does not use this feature because of several reasons, such as:
Historically there was no easy way to convey the button press event to the application
The polling command is a waste of bandwidth.
The button on Model 1 is so buggy that even Xirlink's own WindowsTM driver does not work right.
The computer already has 106 keys right in front of the user, why to bother adding yet another one?
Why would anyone want to use a button on the camera? People are located at some distance from the camera, and unless they have arms like an octopus they simply can't reach the button!
Nevertheless, if someone badly wants this button then it can be reverse-engineered and figured out. I haven't met such person yet :-) I can think of some specialized "camera on a rope"-style industrial application, but none materialized so far, and I wasted no time on that non-issue.
5.7. Colorspace conversion
Here is some useful information about colorspaces and encoding methods:
6. Downloads
Support for all models (1, 2, 3, 4) is included in the driver that ships with Linux kernels starting with 2.4.12.
Previously you had to build the driver from CVS, but now this is not needed (or even recommended).
7. Troubleshooting and contact information
If something does not work you should read this fairly large ibmcam FAQ.
Before reporting a problem you should read file /usr/src/linux/Documentation/usb/ibmcam.txt - this file describes options and known problems with the IBM camera driver that is included into the 2.4 kernel.
If you have a generic USB trouble, such as host controller errors, then visit Linux-USB Web site and there you will find addresses of linux-usb-users mailing list. You can ask questions there.
If you want to email me and report a problem please attach following information to your first email. Otherwise I will need to ask you about some of that data and we both just lose time. So here it is:
The problem itself
Kernel version (run uname -a)
Version (origin) of the IBM camera driver
Output of /sbin/lsmod
Contents of /proc/bus/usb/devices with camera plugged in
Relevant snippet from /var/log/messages from the moment you plug the camera in to the moment you detect an error and stop the test.
Output of xawtv if you use it, or output of other userspace tool that you use to access the camera.
You can reach me at this email address (perform obvious anti-spamming ritual first):
| d | m | i | t | r | i | | ( | a | t | ) | | u | s | e | r | s | | d | o | t | | s | o | u | r | c | e | f | o | r | g | e | | d | o | t | | n | e | t |
| --- | --- | --- | --- | --- | --- | --- | --- | --- | --- | --- | --- | --- | --- | --- | --- | --- | --- | --- | --- | --- | --- | --- | --- | --- | --- | --- | --- | --- | --- | --- | --- | --- | --- | --- | --- | --- | --- | --- | --- | --- |
I will try to help you. I have Model 1, Model 2, Model 3 (with RCA input) and also a Model 4 IBM NetCamera P/N 22P5084 that does not work. I know about NetCameras that do work — and I had one — and I saw a NetCamera Pro at a store (Best Buy). But I do not own any of those two.
---